Gratis Hörspiele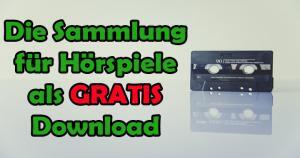 Streaming-Dienste
Bei Streaming-Diensten wie Spotify und Deezer könnt ihr euch immer mehr kommerzielle Hörspiel-Serien, gratis mit Werbung, anhören.
Spotify
Die drei ???
Die drei ??? Kids
TKKG
TKKG Junior
Benjamin Blümchen
Bibi Blocksberg
Bibi und Tina
Hui Buh – Das Schlossgespenst
Teufelskicker
Deezer
Audible
Auf der, zu Amazon gehörenden, Website von Audible kann man sich hunderte Hörspiele und Hörbücher runterladen. Audible bietet neben einer Hörprobe auch die vereinzelte Möglichkeit sich das erste Kapitel eines Hörspiels gratis runterzuladen. Daneben werden auch vollkommen kostenlose Hörspiele und Hörbücher angeboten. Dazu gehören zum Beispiel Hörbücher vom Science-Fiction Klassiker Perry Rhodan und Hörspiele der Krimi-Serie Peter Lundt.
Monster 1983
Das Starling Projekt
Peter Lundt
Perry Rhodan
vorleser.net
Auf der Website von vorleser.net könnt ihr euch, laut eigener Aussage, mehr als 750 Hörbücher runterladen oder im Stream anhören. Ihr habt die Wahl beim Hörbuch z.B. zwischen Märchen (Gebrüder Grimm) oder Weltklassiker wie Sherlock Holmes.
Eine der bekanntesten Communitys ist hoerspielprojekt.de. Auf der Website sind die Produktionen der unterschiedlichsten Genres wie Grusel, Horror, Mystery, Science-Fiction, Märchen, Fantasy oder Abenteuer, zu finden. Die Community Soundtales Productions ist besonders durch ihre Grusel/Horror/Mystery Reihe "Scary Stories" bekannt.
Ohrka
Hoerspielprojekt Hörspiele
Drama
Kinder
Humor / Satire
Bonus Material
Soundtales Productions
Krimi und Thriller
Grusel und Horror
Fantasy

Dark Future
Drama
Kinder
Action
Humor und Comedy
Weihnachten
Fandom House
Mindcrushers
Neuvertonung
Einzel-Serien
Neben den Communitys gibt es auch Fans die sich nur auf eine Hörspiel-Serie konzentrieren und diese veröffentlichen. Besonderes Augenmerk ist auf Rick Future zu legen das sich vor einem professionellen Hörspiel nicht verstecken muss.
Rick Future
Samy und Scott
Cassandras Run
Timeshift
Max Fawley F.B.I.-Team Hot Case
Detektei Suni & Partner
Die Geheimnisse von Gordons Bay
Label
Bei den Labeln ist vor allem das Angebot von innovative fiction interessant, da der komplette Katalog, bis auf "Der Fluch" 3 bis 6, als Stream zur Verfügung steht. Darunter sind das Fantasy Hörspiel "Narbengesicht", die beiden Mystery-Thriller von "Der Fluch" und der Science-Fiction-Thriller "Experiment Zero".
Edel:Kids
Hui Buh
Puzzlecat
Playmos
innovative fiction
Narbenhaut
Der Fluch
Experiment Zero
Holysoft Studios
Cyberdetective
Holy Klassiker
Heff der Chef
Die letzten Helden
Kai Mayer – Merle Teil 1

Cyberdetective
Holy Klassiker
Videospielhelden
Heff der Chef
Die letzten Helden
Kai Mayer – Merle Teil 1
Team Undercover
Holy Horror
Öffentlich-rechtliche
Unter den öffentlich-rechtlichen Radio-Sendern ist besonders der WDR bekannt für seine Hörspiele. Jeden Samstag kann jeder sich auf 1Live ein Krimi-Hörspiel anhören. Die Produktionen vom ARD Radio Tatort laufen einmal im Monat im Radio. Der Radiosender Kiraka ist der Kinderradiokanal der öffentlich-rechtlichen. Dort findet ihr kindgerechte Hörspiele.
WDR Hörspielspeicher
ARD Radio Tatort
NDR
SWR
BR
MDR
Kiraka
Phonostar
Das Phonostar Tool ermöglicht es euch ein öffentlich-rechtliches Hörspiel oder Radio-Sendung mitzuschneiden. In der kostenpflichtigen Version ist das Speichern dieser in der Cloud möglich. Die Nutzung als Internetradio ist ebenfalls möglich.
Schweizerdeutsche GRATIS Hörspiele
Englischsprachige GRATIS Hörspiele
Außerhalb des deutschsprachigen Raums ist das Hörspiel kaum bekannt aber dennoch freut es sich unter den Fans so großer Beliebtheit das sie ihre eigenen produzieren. Bei vielen ist es möglich sie auf itunes runterzuladen.
Darker Projects
Apocalypse Zone
Wormwood
We're Alive
The Leviathan Chronicles
The Cleansed
The Elysium Project
Return Home
Small Town Horror
The Black Tapes
The Dark Tome
Tanis
Age of the Zombies
Our Fair City
Videospiele
Nicht nur die Hörspiel-Fans produzieren ihre eigenen kleinen Hörspiele, so wurden zum MMORPG Ragnarök Online 10 Folgen eingesprochen, von denen im Moment nur noch Folge 1 und 6 zu finden sind. Auch bei World of Warcraft könnt ihr euch das Hörbuch zu "Das Grabmal des Sageras" runterladen. Es gab wohl auch einige Fan-Hörspiele die ich nicht mehr finden konnte.
Ragnarök Online
World of Warcraft Legion
World of Warcraft Legion (englisch)
Archive.org Hörspiele
Auf Archive.org sind jede Menge alte amerikanische Radio-Hörspiele wie Gunsmoke, Richard Diamond oder Dragnet zu finden. Dort könnt ihr euch die einzelnen Hörspiel-Folgen downloaden oder direkt auf der Website wiedergeben.
Podcasts
Talker Lounge
Ohrcast
was hoerst du so
Der John Sinclair Podcast
Fragezeichenpod
Hörma Podcast
Spezialgelagerter Sonderpodcast